Recycling technology that expands the potential of waste plastics
High purification technology, and Recycling technology that can upgrade material properties, to minimize environmental loads
Recycled plastics for a recycling-based society
Since first using originally recycled plastics for MFPs in 2012, Konica Minolta has been leading the industry in proactively using recycled plastics, such as developing the world's first MFPs to use 25% waste plastics.
By processing used PET bottles, which have conventionally not been used for high-performance parts, we have successfully reduced CO2 emissions during manufacture to one-third and recycled PC/PET having high strength and industry-leading flame retardacy.
To help create a sustainable, decarbonized society, we are constantly developing various technologies for reducing CO2 emissions besides recycled plastics.
Technology Overview
In order to recycle plastics that are already used in various fields, a high purification technology and a recycling technology that can upgrade material properties are essential.
To minimize CO2 emissions from the plastics used for products, we are committed to developing not only recycled plastics and biomass resins but also virgin resins with reduced CO2 load.
Through these technologies and the combination of our analysis, processing, and evaluation technologies, we have developed recycled plastics that minimize the environmental load. At present, by using 2,800 tons of waste plastics for MFPs and production printing products a year, we have reduced annual CO2 emissions by 6,000 tons.
High purification technology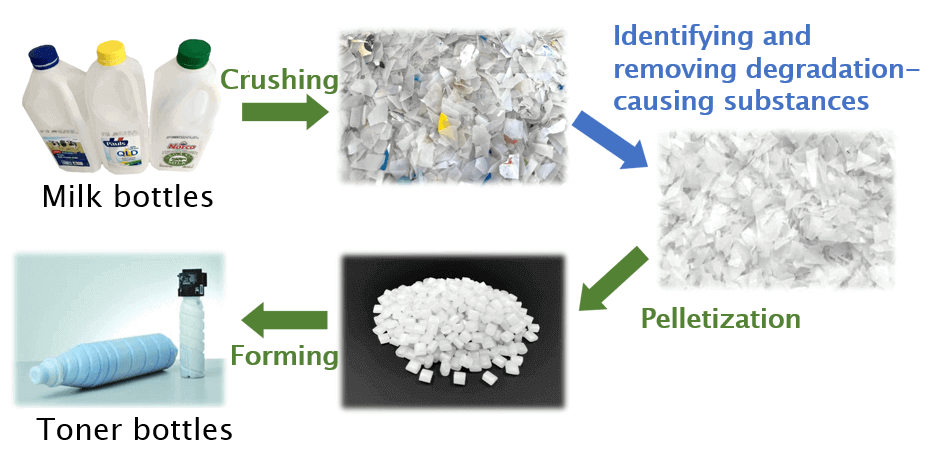 In general, recycled plastics are mixed with waste materials and virgin materials, but Konica Minolta aimed to maximize the ratio of waste plastics-derived constituents and thus minimize the environmental impact. We analyzed the mechanism of degradation, which is the bottleneck in waste plastics, and finally found that the cause of degradation is the inclusion of contaminants adhering to waste plastics and different types of plastics. Accordingly, we established a high purification technology for thoroughly removing these foreign substances. This enables us to use recycled plastics composed only of waste plastics-derived constituents for parts and toner containers for MFPs.
Recycling technology that can upgrade material properties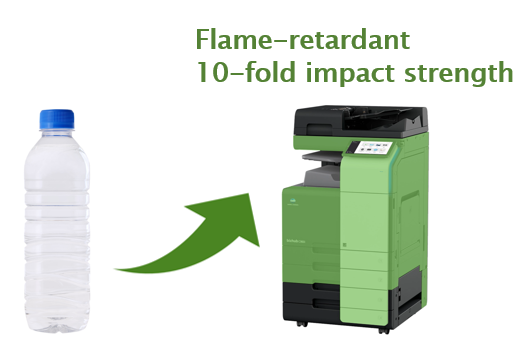 To use more recycled plastics for products, good strength, flame retardancy, and other properties must be achieved. For example, the exterior parts of MFPs, which use the largest amount of plastics, must be strong enough to withstand large impacts and must be highly flame retardance. Konica Minolta has developed a recycling technology that can upgrade material properties, dramatically enhance the strength and flame retardancy of waste plastics, based on a polymer alloy technology accumulated through the development of toner. This technology allows recycled plastics to be used for parts covering 88% of the entire surface area of the MFPs.