Technology for On-demand bookbinding and post-processing
Post-processing technologies for paper processing to produce print products, from business cards to long sheets, with higher added value in-line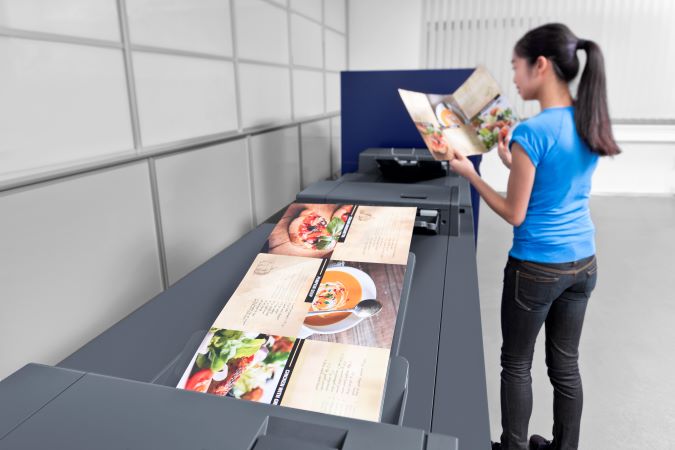 The workload of the production workflow, from the creation of business cards to catalog production, can be drastically reduced by an in-line process that integrates everything from printing to cutting and bookbinding
The widespread use of digital presses is expanding the market for in-line systems, which automate the entire production process of print products, from printing to bookbinding. However, paper cutting before bookbinding and post-processing such as creasing, require multiple different post-processing machines. As a result, printing, cutting, and bookbinding must be done in different places, excessive manpower and time must be allocated to paper transfer, and outsourcing may be needed.
Konica Minolta's four-way cutting technology enables four-way cutting by setting the paper appropriately in the post-processing unit of the digital press. This enables seamless production of print products, from printing to cutting and bookbinding, by integrating all operations that used to be separately performed, into a seamless workflow. Furthermore, the newly-developed sophisticated post-processing unit enables even unskilled users to perform various post-processing operations, from the creation of business cards to creasing, perforation, and four-way cutting.
Konica Minolta helps customers streamline their operations and save manpower.
Technology Overview
To perform post-processing such as cutting and creasing of paper, it is necessary to set each sheet of paper in the paper conveyance direction. Konica Minolta has successfully introduced two technologies, a skew correction technology by roller rotation control and a side control technology using alignment plates, to automatically correct paper skew, and has also integrated post-processing, which used to be separately performed, into the in-line system.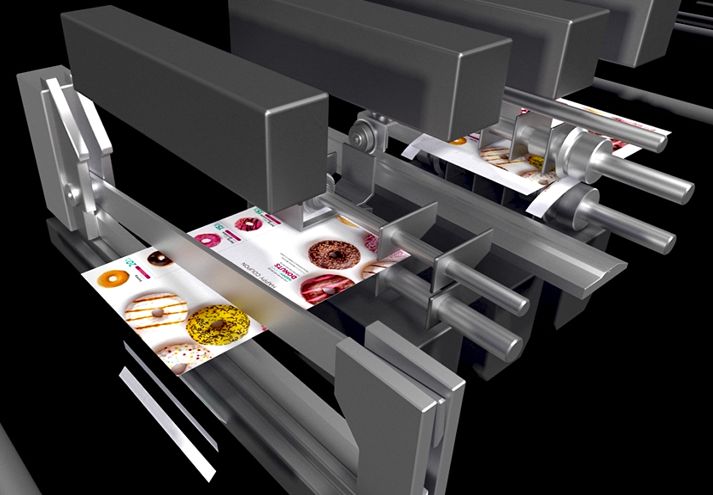 Skew correction technology by roller rotation control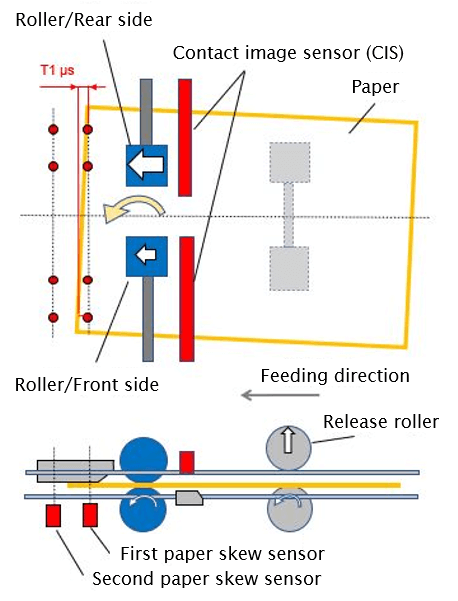 To correct paper skew, the system turns the paper and aligns it using two paper conveyance rollers rotating at different speeds. This system can correct the skew of various types of paper, from thin to thick, because it does not need to butt the paper against a stopper or deflect it. By turning paper in a horizontal conveyance route, the system can convey paper with skew corrected to 0.2% or less.
Feedback side control technology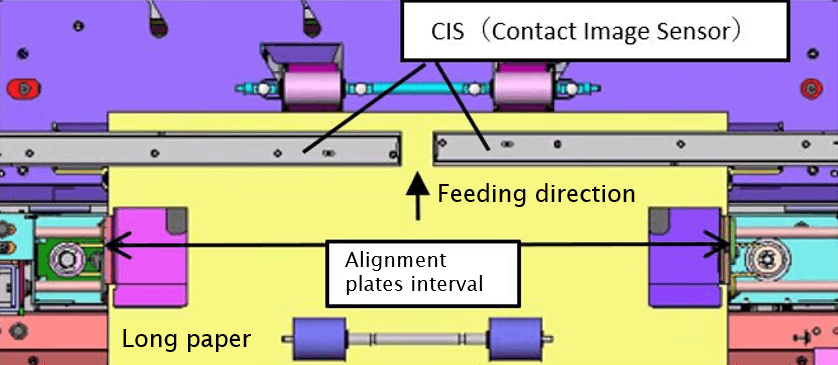 Konica Minolta has developed a side control technology for long paper to correct the skew of long paper (paper length: 488 to 1,300 mm).
In the post-processing of long paper, paper skew becomes noticeable near the rear end even if it is small at the front end. Thus, the entire paper is housed within the system, and five pairs of alignment plates are used to correct skew. The alignment plates are placed so that the skew of paper with various lengths from 488 to 1,300 mm can be efficiently corrected. Moreover, contact image sensors (CISs) are used to measure the width of paper, and the interval between each pair of alignment plates is feedback-controlled according to the measurement result, realizing stable straight conveyance with skew of 0.2% or less.
The industry's first in-line perforation technology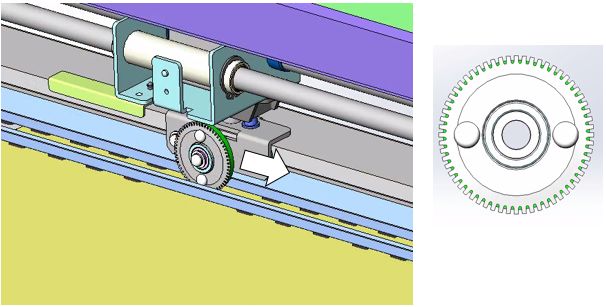 In addition to the four-way cutting technology, Konica Minolta is the first in the industry to introduce an in-line perforation function to digital printing systems. The perforation roller blade rolls over the paper and forms perforations. In addition, the speed of the roller blade and a paper holding technology are designed to produce perforations with high accuracy.