Workflow automation technology developed in an agile way
Integrated print workflow environment, developed by a team who are familiar with the workflows of various printing setups, such as commercial printing companies, public institutions, universities and corporations.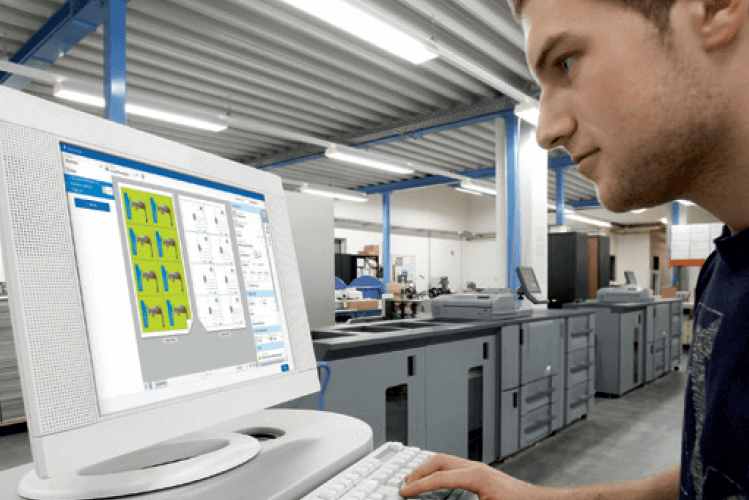 Digitizing, automating and streamlining the printing workflow to drive digital transformation (DX) and maximize profits of the printing process
Konica Minolta is driving the digital transformation (DX) of printing through digital workflows, in addition to increasing the value of printing with digital presses. By introducing a consistent digital workflow that automates and reduces labor in the printing process, the customer can improve productivity and profitability, reduce human error and costs, and achieve high levels of efficiency by simplifying the process for print operators. In addition, we co-create with our customers new values in printing beyond digitalization, including new business models and supply chain transformation.
Technology Overview
Our print workflow solution implements a complete digital workflow chain of printing, from the ordering process to production and shipping. It therefore encapsulates a broad variety of technologies and functions, such as PDF and image processing, as well as many others. Because our solution must be flexible to individual customer needs, we have designed the system architecture to be adaptable, integrable and extendable in front-end and back-end.
We have achieved the advanced functionality necessary in the printing environment, such as complex document editing, by using modern web technologies with a focus on high quality design and user experience.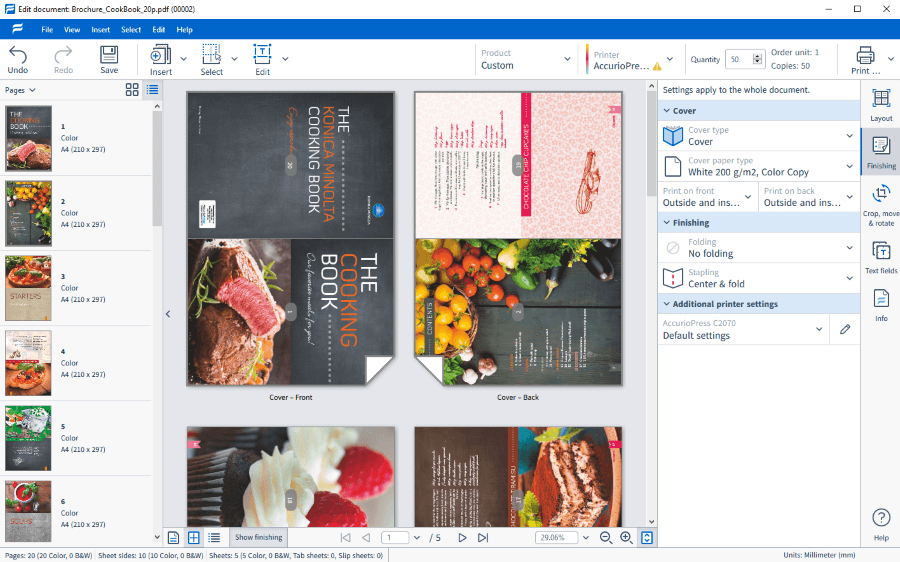 The flexible workflow solution for prepress, automation, collaboration, web‑to‑print and label printing
Development for advanced functionality
The unique printing workflow solution, AccurioPro Flux is developed by our subsidiary office in Berlin, Germany. Besides the software development itself, the UX design and prototyping, testing and quality assurance, software training and support are all done in one team in an agile way. This allows for speedy, continual development and simultaneous quality assurance, resulting in engagement with customers in a meaningful way.
Easy to achieve complex impositions
One example of the automated print workflow is the automation of imposition. The imposition process is easily accomplished by placing each page of the original document in the correct order and position on the appropriate paper size according to the final printed material, such as booklets, postcards, labels, etc. By specifying the final print, AccurioPro Flux automatically determines the appropriate page placement based on the size of the document. AccurioPro Flux also automatically places cut marks and eye marks in the appropriate locations for cutting, binding, and other post-processing.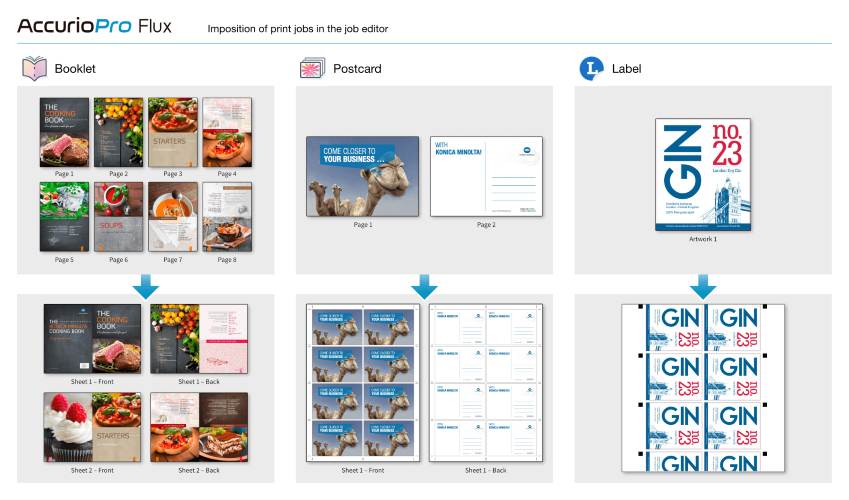 Products and services that use this technology