High-speed high-accuracy scanning technology
Electronic skew correction technology for high-speed high-accuracy digitization of documents by detecting and correcting the skew (inclination) of original documents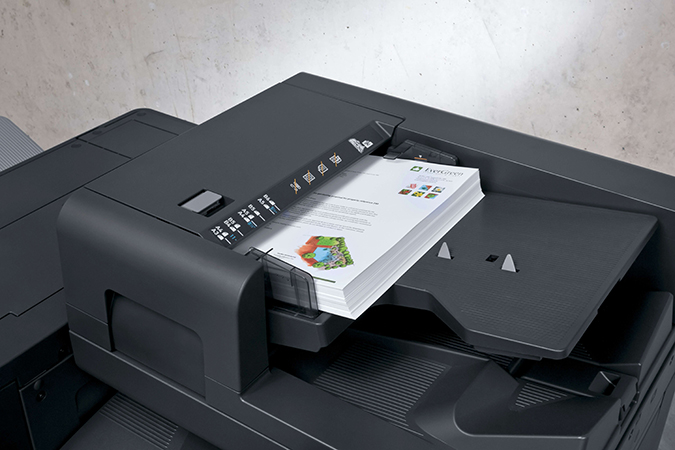 Konica Minolta's stress-free scanning function meets the increasing demand for digitizing paper documents.
To help reduce the use of paper documents amid workstyle reforms, it is important to digitize existing paper documents as quickly as possible in the upstream stage of the workflow. Accordingly, multi-functional peripherals (MFPs) used to input data need also to offer a high-speed, easy-to-use scanning function. Konica Minolta's MFPs come with a high-speed scanner that can simultaneously read the front and back sides of original documents at 280 pages per minute, one of the fastest speeds in the industry. 
Konica Minolta has realized not only fast but also accurate reading with the aid of a skew correction function. Other functions, including a blank sheet removal function that skips blank pages, helps save time and trouble for users, even in post-reading checks and file editing. Our MFPs offer a scanning workflow that is easy and carefree to use.
Technology Overview
The scanning function simultaneously reads the front and back sides of an original document handled by the automatic original document feeder at about 0.4 second per sheet (for A4 size original document).
The stable original document feeding ensured by a high-accuracy mechanical function and the instantaneous detection and correction of slight skew of original documents deliver accurate reading with a skew rate of 0.25%*.
Faint shading along the edges of an original document is detected accurately from image data, and the skew of the original document is calculated and corrected by pixel shift processing. With this electronic skew correction algorithm installed in the hardware running at high speed, image data of the front and back sides of original documents input simultaneously at the high speed of 280 pages per minute can be corrected in real time. 
* The amount of skew of A3 size paper (420 mm) is within 1 mm.