Cutting-edge technologies for next-generation MFPs equipped with the latest SoC (System on Chip)
Next-generation MFPs featuring cutting-edge technologies, such as the latest SoC, strengthened linkage with the cloud, and automatic setting of paper types
Konica Minolta provides strong support for digitizing office operations and reforming workstyles through state-of-the-art technologies
Today, office environments suited to diversifying workstyles are demanded, and it is becoming increasingly important to digitize office operations amid the global trend toward digitization.
Konica Minolta, which has the latest SoC and cloud linkage technologies, can easily digitize office documents that customers want to use for remote work. Our cloud application can be operated directly from multi-functional peripherals (MFPs) to help create the optimum office environment that can be accessed remotely and promptly.
As digitization proceeds, Konica Minolta has introduced a new technology to meet the rising need for printing on various types of paper, including envelopes and thick paper. Konica Minolta's original media sensor technology reduces troublesome paper jams caused by paper selection and printed image quality defects, delivering high throughput by automatic setting.
By combining fundamental technologies accumulated over decades with the latest technologies, Konica Minolta is actively helping to reform workstyles and boost creativity in customers' offices as a partner. 
Technology Overview
Konica Minolta has established sophisticated core technologies used in diverse MFPs to suit today's market environment.
For the control unit, Konica Minolta has realized One Platform, which uses the latest SoC technology and unifies low-segment A4 size machines, high-speed A3 size machines, and even production printers. In addition to processing inside MFPs, stress-free performance during cloud linkage can be realized. Furthermore, a new user interface (UI) for the operation panel makes it easier to use, as well as using the cloud and various other IT services.
By automating the troublesome setting of paper type, such as thick paper and envelopes, and ensuring stable paper feed by optimum control for the paper type, operability and productivity have been greatly improved.
MFP platform unifying various models with the latest SoC technology
Higher speed and cost-effective design by the platform using the latest SoC technology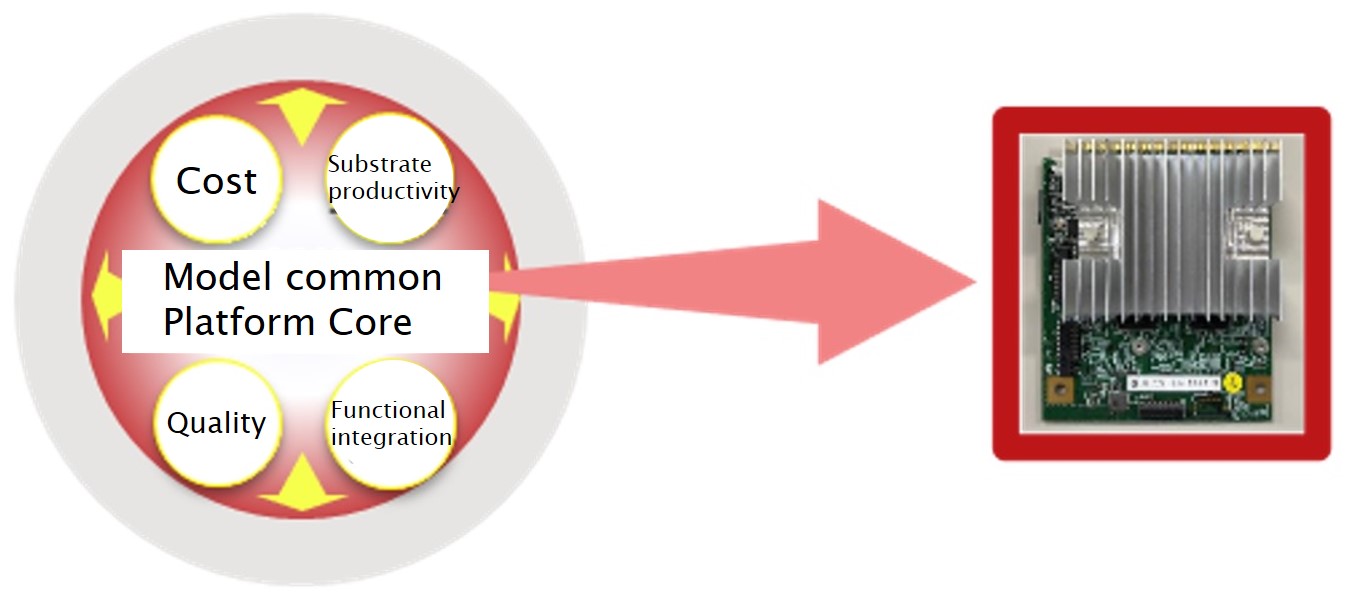 Konica Minolta has established a MFP base platform, which achieves both higher speed and lower cost, is compatible with each product segment, and covers customers' workflow, including the latest cloud environment. The platform, which is equipped with the latest SoC (CPU-ARM multi-core), increases both the internal performance and the cloud performance of MFPs and is highly competitive against competitors' products, even assuming future expansion of the firmware thanks to the 8-GB main memory installed as standard. The component configuration of the base platform covers from low-speed to high-speed zones, is highly expandable, and allows the platform to be configured for low-speed to ultra-high-speed zones. (Flexible configuration permitting easy addition of Konica Minolta's original accelerator ASIC for greater expandability and speed) The CPU and ASIC, which have been separated, are integrated by the latest SoC, so can be used in common for various MFP models while reducing cost. The adoption of a hibernation technology for startup, the latest SoC, and next-generation high-speed memory has resulted in a startup time of 3.8 seconds, the fastest in the industry. Konica Minolta's latest platform can be flexibly upgraded with a solution function, a security function, and customization by the customer, and can constantly provide DX services for customers.
New operation panel UI featuring strengthened linkage with the cloud
A new intuitive UI for the operation panel, which utilizes web technologies such as the latest web browser (Chromium) and data science, is installed, and linkage with the cloud is strengthened to improve CX/UX/UI.
This web browser facilitates linkage with the cloud and other evolving technologies, and offers improved compatibility with people's existing mobile devices and cloud services as well as intuitive operation.
By analyzing data on use by customers, frequently used functions are made easier to use, while purpose-specific UIs enable users to perform intended operations in a wizard style without difficulty. 
Our MFPs, which are the first in the industry to participate in the cloud certification platform (Trust Circle), can seamlessly use cloud services.
Thanks to the disclosure of external APIs, the MFPs can also be freely used not only with in-house applications but also with third-party vendor applications, making their functions available to each customer's workflow.
Ahead of the industry, our MFPs also have a function enabling each user to use customized screens linked with the cloud, and a function for displaying the statuses of external applications or cloud services with widgets and directly executing them from the home screen of the MFPs.
We will continue to develop these functions and support new workstyles.
Paper type discrimination technology using an intelligent media sensor
Intelligent media sensor featuring an estimation technology for paper type discrimination algorithm
With conventional MFPs, it was necessary to make paper settings according to the paper to be used, and incorrect settings could cause errors such as paper jams (paper feed errors) and image errors. Thanks to this technology and automatic setting, the printer can automatically discriminate the type of paper and optimally control the printing.
With MFPs for office use, the characteristics of the paper are closely related to stable paper feed and image quality, and each type of paper needs delicate control. Using the wrong paper can cause paper jams (paper feed errors) and image errors, leading to customer dissatisfaction.
Printers have paper settings such as "paper type"*1 and "basis weight"*2, which are closely related to the characteristics of the paper, and incorrect settings can cause printer failure. If the paper type and paper settings do not match, paper jams and image errors can be caused by incompatibility between the status of the printer and the paper settings, impairing productivity.
Konica Minolta therefore developed a paper characteristic sensing technology and an estimation technology for paper type discrimination algorithm using its core optical and ultrasonic technologies, to prevent such disagreement between paper type and paper settings and avoid printer failures, boosting productivity. This is an industry-first. 
*1 Paper type means the category of paper, and includes plain paper, thick paper, recycled paper, envelopes, and so on.
*2 Basis weight is the weight of one sheet of paper per square meter. The unit of weight is gram and is indicated as g/m2.
[Intelligent media sensor technology] Introducing paper type discrimination technology and basis weight detection technology
Optical paper sensor that automatically corrects settings to the optimum printing conditions for paper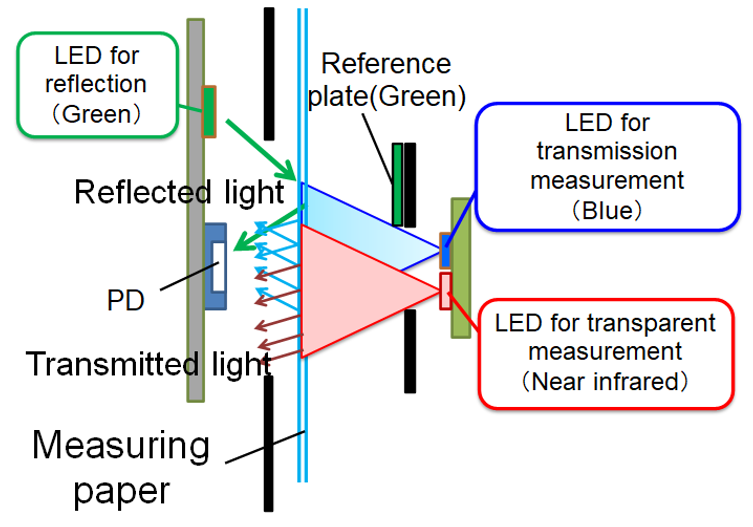 Our paper discrimination technology and basis weight detection technologies are outlined below. A noncontact detection system, which does not cause damage to paper, is used. The basis weight of paper is measured by means of transmitted long-wavelength light, which is less likely to be affected by the characteristics of the paper. The paper type is discriminated by means of transmitted light with a wavelength that allows the diffusion and absorption characteristics of light dependent on the characteristics of the paper to be detected, and reflected light. Since transmitted light and the basis weight characteristic vary with paper type, we have developed and introduced an algorithm for calculating the basis weight of each paper type after paper type discrimination. Infrared ray (IR) and blue (B) light emitting diodes (LED) are used to emit the transmitted light, while a green (G) LED is used to emit the reflected light, and the paper is placed between them. A photodiode (PD) is used to detect the light. In addition, paper can be detected while being fed by placing the LEDs and the PD so as to minimize detection instability due to changes in paper position.
[Intelligent media sensor technology] Printing technology exclusively for envelopes
Detection technology for common business envelopes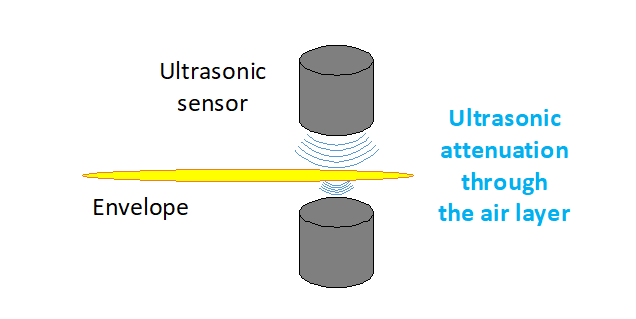 The printer automatically detects envelopes, which are frequently printed, to ensure optimum printing settings. The envelope detection mechanism uses the characteristic that ultrasonic waves are attenuated as they pass through the interface between media having different acoustic characteristic impedances. Thus, the paper type is judged to be an envelope from the intensity of the ultrasonic signal that passes through the air layer of the envelope, an industry-first. The printer performs appropriate printing on the envelope, reduces downtime which often occurs when printing envelopes, and improves productivity.