Inkjet dyeing technology that eliminates wastewater disposal
Dry process ink technology reduces wastewater to zero during dyeing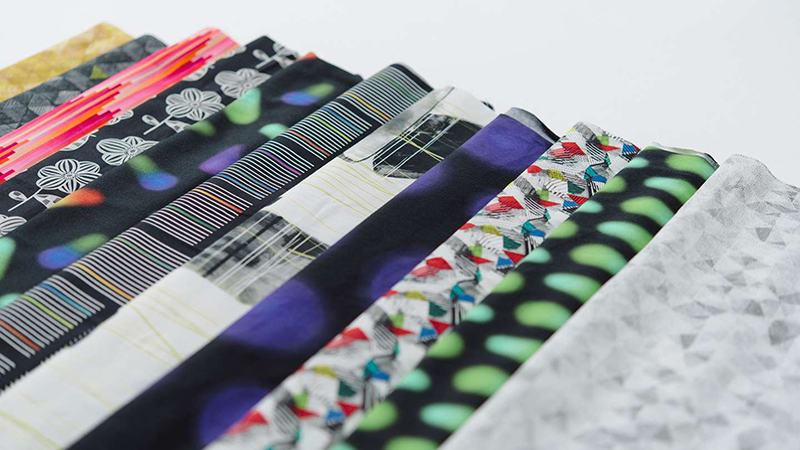 Konica Minolta has created an eco-friendly dyeing technology that reduces wastewater and its disposal.
Konica Minolta has contributed to the switch from analog printing to digital printing by offering the Nassenger series for more than 20 years. Social issues in the apparel industry include the production of wastewater during manufacturing and the disposal of clothes. By providing a dyeing technology that does not produce wastewater, wastewater is greatly reduced and wastewater treatment facilities are no longer necessary, making it easier to install digital printers and shortening the supply chain. Manufacturers will be able to cut lead times from order receipt to product delivery, reduce excessive inventory, and solve the problem of disposing of unsold clothes. Konica Minolta will keep contributing to preserving the global environment for future generations.
Technology Overview
Conventional digital dyeing requires various environmentally-heavy processes, such as a steaming process for vividly developing colors printed by an inkjet printer and a washing process that removes remaining dyes. To help preserve the global environment, Konica Minolta focused on a pigment-based dyeing technology that does not require color development and washing processes. Pigment-based dyeing is not suitable for apparel because its color development performance is generally poor and fabrics become hard due to fixing pigments with a resin. Konica Minolta has achieved vivid colors and soft fabrics for apparel even with pigment-based dyeing by integrating its proprietary assets, namely interface control technology developed for photo films, resin design technology cultivated through toner synthesis, optical design technology for controlling light diffusion and refraction, and inkjet technology.